Candice Patton recently gave an interview to Glamour magazine after the Iris West Defense Squad hit up writer Jessica Radloff on Twitter.  Among many topics, Candice answered questions about her career, her Flash audition, and Iris' role on the show.  She also answered some questions from fans on Twitter.
Here are some of the highlights:
Glamour: What moments really shaped your career?
Candice Patton: I remember being interested in theater when I was in school, but I wasn't always engaged in making it a career. I was a cheerleader in Texas, but I tore my ACL, so I was out for the rest of the season. That's when I started putting more of my passion into theater. In college, CBS' Young and the Restless did a nationwide casting search for a new male and female to join the show. They came to SMU and ended up picking me. So after I finished, the casting director said, "We'd love for you to stay on the show, what do you think?" I said I wanted to go back to school and finish my degree, but I'd contact her when I came back to LA. As soon as I graduated, I moved to LA and got in touch with her. She was teaching an acting class, and that's how it started.
Glamour: What was your audition for The Flash like?
Candice: The first time I did it, I felt like I bombed. There was a line about Channing Tatum, and I couldn't remember his name to save my life. I just kept [messing it up], so I hope I'm in a movie one day with Channing! I will never forget his name! But yeah, I thought it was dead in the water, and it just happened that it was so early in the casting process, so a month or two later they brought me back in to read with Grant and do a chemistry read with him. Within two days, I booked it. It was kind of crazy.
Glamour: I heard you tickled him in the audition. True?
Candice: Yes. There was something about when I was reading the sides that Iris and Barry had this close relationship, and it's hard when you've never met an actor before. How do you recreate that in two minutes in an audition? In that moment, the only thing I could think of to make him smile or laugh was to physically grab him and tickle him. They loved it because they thought it was really charming. That's one of the few times it works to touch someone! [Laughs]
Glamour: Since your fans are responsible for making this interview happen, I asked them to send me questions that they're dying to know. So let's do just that!
Candice: Awesome!
Glamour:  @angellbearr asks: "Is the show ever going to give us Iris's point of view?"
Candice: I don't know that they will happen any time soon, only because the show is called The Flash, and it's about Barry Allen. We are all kind of auxiliary characters to him. We definitely see everyone's point of view, but I think it's important to remember that the show is about Barry.
That last question and answer:
This is what we're doing, show?  Really?  When in the world are we going to get Iris' point of view about…well…anything?  Sigh.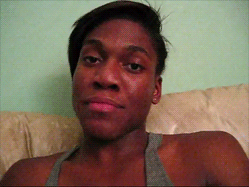 Glamour: @clement_regina wants to know: "Will her story line bring her on a separate journey than the rest of Team Flash?"
Candice: Interesting question. I think this season we will definitely see Iris explore the family side of her life, the mystery behind her mother, etc. I'm hoping later this season we will see her more focused on Picture News and her reporting. So yes, I think that's a possibility.
Glamour: @CandicanesU asks: "What does Candice love the most about Iris West, and which episodes this season might showcase those qualities best?"
Candice: I think the episode [tonight]. We'll get to see some bad ass Iris, and then there's a couple episodes dealing with family shortly after that, which are really kind of Iris-focused. I love that Iris is a woman growing into herself.
Glamour: This question is so important from @PurplePinkSkies: "What would Candice's advice be for black women and other women of color interested in working as actresses?"
Candice: Work hard, obviously, and don't let your race or people's idea of your race stop you. I've never let that stop me from doing anything.
There's lots more.  It's a pretty long and extensive interview.  Pop on over to Glamour to read the rest.  It's definitely worth it!